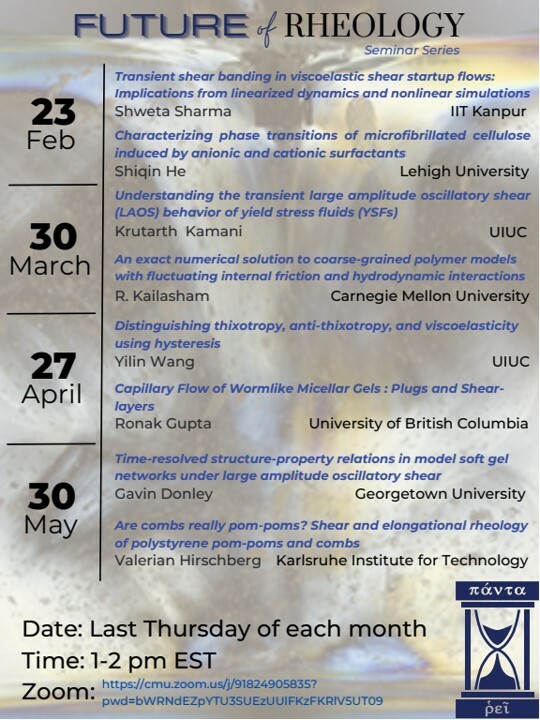 Dear Colleagues,
We are excited to kick off the Future of Rheology Seminar Series, the first of which will be held this Thursday, February 23rd 2023, from 1-2 PM EST, and will continue on the last Thursday of each month. This seminar series is designed to provide a platform to highlight exciting research performed by the students and postdoctoral researchers working in the field of rheology.
We are pleased to attach a poster with information about the first four events of the series. We encourage you to share the attached poster with colleagues and friends who might be interested in attending these engaging presentations. The seminar series will provide an excellent opportunity to learn about the latest developments in rheology and to network with our colleagues in the field.


The first seminar will be this Thursday:
Transient shear banding in viscoelastic shear startup flows: Implications from linearized dynamics and nonlinear simulations

Shweta Sharma

IIT Kanpur

Thursday: February 23rd at 1PM EST

Launch Meeting - Zoom


Please feel free to contact Arman Ghaffarizadeh ([email protected]) or Chunzi Liu ([email protected]) if you have questions.
We look forward to your participation in the Future of Rheology Seminar Series and hope to see you at the upcoming events. Sincerely, Future of Rheology organizing committee (Arman Ghaffarizadeh, Chunzi Liu, Safa jamali, Matt Helgeson)